7 min read
How to choose a laser marking/engraving machine
With so many different types of lasers, each offering different benefits, choosing the right one for your marking/engraving needs can be challenging.
The key to knowing which machine to use, is knowing the difference between marking and engraving and, beyond that, the material you would like to mark or engrave.
In this article, we'll give you a quick overview of laser marking and engraving machines, as well as the key things to consider when selecting them.
Difference between laser marking and laser engraving
Though often used interchangeably, laser marking and engraving are two very different processes.
Laser marking uses a low-powered laser beam to leave a lasting mark on a material. This is achieved by changing the material's appearance using material oxidation. During this process, the surface of the material remains intact and the final mark is clean and defect free.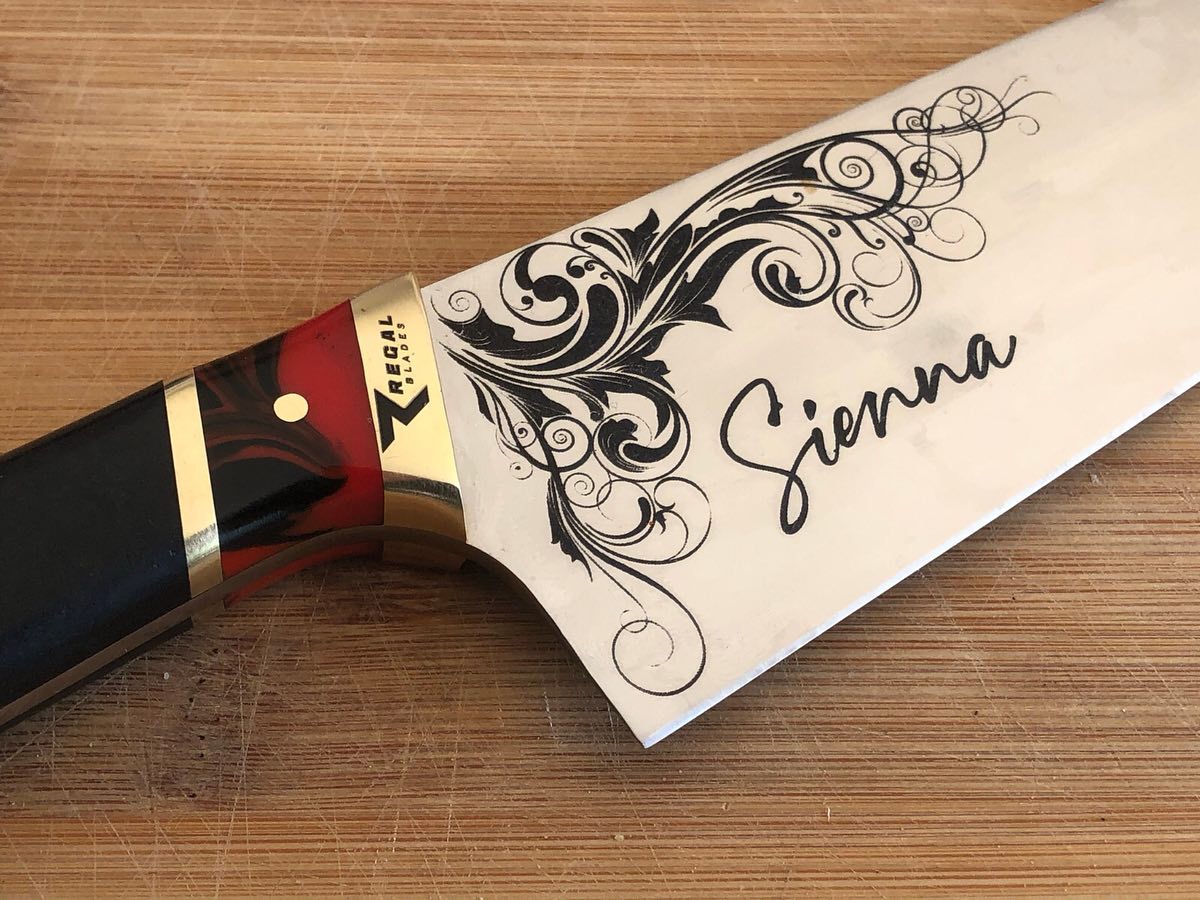 (Photo: Regal Blades)
Engraving, on the other hand, removes material through vaporisation. The outer surface of the material is removed using a high-powered laser beam, engraving at a depth of up to 0.020" in metals (but can go as deep as 0.125" in materials such as graphite).
Laser marking is typically used for logos, barcodes, QR codes and other text markings on plastics and metals, while laser engraving is used on metal, thermoplastic, glass, leather and wooden surfaces. Some machines can both mark and engrave, while others are dedicated to one or the other.
Types of laser marking and engraving machines
There are four types of laser marking and engraving machines. Some are applicable to both marking and engraving, while others specialise in one of the two:
Designed to be a practical solution for marking plastics and glass, UV lasers can engrave a vast number of materials, from metals to paper.
These lasers are engineered for high-density and low-density polyethylene and synthetic fibres, making them suitable for laser engraving applications where the surface of a product needs to be protected.
The most popular type of laser for marking and engraving. Fibre lasers are a type of solid state laser and produce an extremely small focal diameter, resulting in intensity far greater than a CO2 system.
These are ideal for permanent markings, including serial numbers and barcodes. Also, as they can produce an intense laser mark with an extremely small focal diameter, they are well-suited for metal engraving (including coated metals) and high-contrast plastic markings.
Though one of the earliest gas lasers to be developed, CO2 lasers remain one of the most useful types and are the highest-power continuous wave lasers currently available.
Modern CO2 lasers produce the laser beam in a sealed glass tube filled with gas (usually carbon dioxide). A high voltage then runs through the tube and reacts with the gas particles, increasing their energy and producing light.
CO2 lasers are typically used for cutting and welding. Low-power CO2 laser marking machines are better suited for non-metallic materials and plastics.
Commonly known as flash lamps or lamp-pumped lasers, YAG lasers utilise a lamp (bulb) as a pumping mechanism and a crystal as the gain medium. Both reside in an optical resonator which reflects the light and helps create the laser light.
Though used widely across manufacturing, they're becoming obsolete as bulbs have a short lifespan and require frequent replacement


Find the right laser for your business here!
Advantages and disadvantages
UV lasers
UV lasers require far less power to produce clear marks and are better absorbed by virtually all materials in comparison to other laser wavelengths. Also, unlike other marking and engraving technologies, there's no prolonged downtime, meaning the process is — typically — extremely quick and simple.
The marks produced by UV lasers are essentially tamper-proof, as they're below the surface of the material, and the material does not come into direct contact with the laser marking device. This allows for clean operation and minimal contamination. It's because of these capabilities that UV lasers are used frequently in the medical and pharmaceutical industries.
Fibre lasers are perfect for marking on difficult materials, such as gold and nickel plating, plastics, PCB and other sensitive materials and layers. They can also be used for smooth finishing of deep engravings and annealing for medical devices.
When used in conjunction with a high-powered master oscillator power amplifier (MOPA), fibre lasers are suitable for deep engraving. A MOPA laser will increase the peak power output of the laser and optimise the beam quality, allowing for precise markings and deep engravings.
Overall, fibre lasers are high-performance, reliable and often compact compared to other laser marking and engraving machines.
CO2 lasers
Thanks to their high efficiency and beam quality, CO2 lasers are one of the most commonly used forms of laser marking.
CO2 lasers are suitable for a wide variety of non-metallic materials, including wood, acrylic and stone. They're also great for cutting thicker materials as they deliver faster initial piercing times, quicker straight-line cutting and a smoother surface finish when working with materials above 5mm.
That said, they do use significantly more power than fibre lasers and are therefore costlier to operate.
YAG lasers
YAG lasers are used for etching, marking and engraving applications (as well as for cutting or welding steel).
These lasers are suitable for micro-marking, deep engraving, annealing and ablation processes, while their high speed and accuracy make them an ideal solution for most metals, ceramics and plastics.
However, YAG lasers do produce an incredible amount of heat due to the intensity of their wavelength and consume a lot of energy. As a result, these devices often require water cooling and frequent maintenance.
Other considerations
Now that you understand the types of laser marking and engraving machines available and what they are best suited for, choosing the right machine should be much easier.
But as well as knowing what each type of machine can do, there are several other things to consider:
How much can you afford to spend on your laser marking and/or engraving solutions? Do you need multiple machines for different applications or can you use just one across all of your activities?
Fibre and UV lasers are the most cost-effective, but the initial upfront cost will likely be higher than CO2 and YAG. That said, you will benefit from less maintenance and longer uptime. Think carefully about how much you can afford right now — but also the costs of having machine downtime.
Material to be marked and/or engraved
Depending on the material you want to mark or engrave on, some lasers will be more suitable than others. For example, if you want to mark product information on non-organic materials using a non-contrast mark, a CO2 laser would work nicely.
On the other hand, if you want to mark pill bottles, a UV laser would be more appropriate as it penetrates beneath the surface to leave a tamper-proof marking. This helps to prevent counterfeiting, provides no site for infection (as the mark is not raised in any way) and ensures the material remains undamaged.
Efficiency and sustainability
Of the lasers listed above, UV are the most energy efficient and sustainable, but they're predominantly used for marking and engraving below the surface of materials, often using low power.
Lastly, fibre lasers are designed to be reliable, high-performance machines that consistently deliver quality markings and engravings. They're also much stronger than UV on metal surfaces, but struggle with some organic materials — unlike UV.
As well as comparing fibre and UV, it's worthwhile doing the same for CO2 and YAG.
Let us help you
With the above information, it should be much easier to choose the right laser marking and/or engraving machine for your needs — but why not make it even easier by enlisting our support?
At Needham Laser, we like to be at the cutting-edge of laser marking technology. Our team of engineers use their decades of experience in the industry to find novel solutions to complex manufacturing problems — including yours.
We also have our proprietary laser solution: N-Lase, a fully modular, built-for-purpose laser marking and engraving machine that's fit for any requirement. The solution can be modified depending on what materials you are working with — meaning no need to acquire new technology — and is built with consistent, long-term operation in mind.
So you can rely on us to help.
Book a demo or get in touch with us and a member of our sales team will be happy to help.
Call us on: +44 (0)1948 660011
Email us on: info@needhamlaser.com