6 min read
Laser Technology in the Medical Industry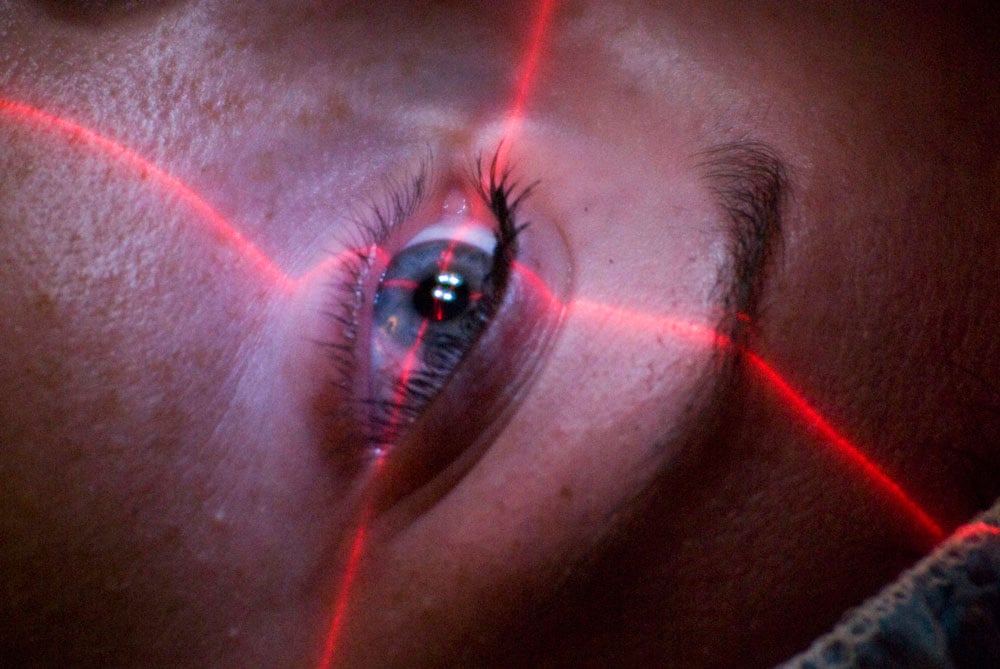 As a technology that offers a high degree of flexibility, sustainability, productivity and precision, the laser has enjoyed widespread use and success across several industries, including manufacturing, chemical production and processing, automotive and — perhaps most famously — healthcare and medicine.
With its accuracy and precision, lasers allow doctors and surgeons to carry out complex surgeries and devise new medical equipment and designs for manufacturers.
From laser eye surgery to the creation of new equipment and prostheses, laser technology has empowered hospitals, doctors, surgeons, consultants and nurses to deliver better care, faster.
And in the pharmaceuticals sector, it has allowed drug manufacturers to clamp down on counterfeit goods in hospitals and surgeries because of how information can be marked or etched without any visible damage to the product.
In this blog, we're going to look at how laser technology is supporting the medical industry, as well as some key innovations to expect in the future.
Creating new, built-for-purpose medical devices
In the past, due to the lack of sophisticated technology, creating detailed medical apparatus was both difficult and costly. However, with the arrival of laser technologies, medical professionals can now access innovative, built-for-purpose devices and solutions.
Take prosthetics, for example. Thanks to 3D laser printing technology, the cost of producing these prosthetics has been driven down while manufacturing speed has shot up. These complex medical apparatuses are made possible not only because of how accurate and precise laser technologies are, but also because they provide a contamination-free process by design (UV lasers leave no raised marks and don't alter the surface of the material).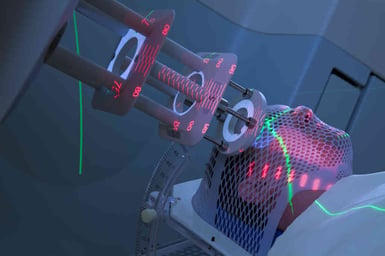 Similarly, laser technology has allowed practitioners to aid their patients on a day-to-day basis with issues ranging from cancer diagnoses and tumour removal to cutting tissue. Lasers can be adjusted to cut most materials (for surgeries or medical devices) without special processing.
At the same time, the technology has allowed manufacturers to scale their capabilities significantly and meet the ever-growing (and changing) demands of hospitals and private healthcare.
Ultimately, laser technology has empowered manufacturers of medical solutions to be more creative with their designs and deliver them at scale through highly efficient production.
Safety, identification and anti-counterfeiting
As well as creating new devices, laser technology allows medical device manufacturers and pharmaceutical firms to safely mark and etch information onto products without altering or damaging the surface of the material.
These marks are highly resistant to alteration, tampering, acids, cleaners and other fluids. Also, if they're made using a UV laser, for example, they're beneath the substrate — below the surface of the material — so there are no raised edges that create a site for infection.
This ensures that any equipment or packaging subject to laser marking is sterile and suitable for use in a medical environment. Take stainless steel medical prostheses, for instance. These implants need to be sterile, and the markings on them durable, so as not to contaminate the patient's body.
As well as creating safe marks, these marks are incredibly helpful for identifying products, counteracting counterfeiting. For example, every medical product must have a unique device identification (UDI) marked onto it for the purpose of traceability.
Scanning this code will provide the manufacturer's name, item reference and expiry date (particularly in the case of medicines). This provides error-free documentation that ensures patient safety and prevents counterfeiting.
Lasers can also etch a 2D data matrix code — simply called a DMC — to capture the above information, plus serial numbers and batch numbers. They can even etch barcodes, QR codes and graphics.
Expanding into other areas of medicine
Laser technology is less invasive than traditional surgery. It's faster, more efficient and, most importantly, it reduces postoperative discomfort and chances of infection. As a result, more and more surgeons are embracing the technology for a range of procedures. Some of which include:
Skin tightening procedures for treating lines and wrinkles, precancerous lesions, and acne and scars, for example, are often managed using an aggressive ablative laser, such as a CO2 laser.
The CO2 laser is also used for the removal of warts and skin tags, and for cutting skin in laser-assisted surgery.
These procedures often use a specialised excimer laser (sometimes called an exciplex laser) a form of UV laser which emits a cool beam to gently reshape the cornea and treat common vision problems like nearsightedness, farsightedness and astigmatism.
Tooth decay, gum disease, lesion removal, teeth whitening — lasers are frequently employed by dentists to do the above and more. In surgical dentistry, lasers are used to precisely cut or vapourise the tissue it comes into contact with. When used for teeth-whitening procedures, the laser acts as a heat source, enhancing the effect of tooth-bleaching agents.
The most-used lasers in dentistry are YAG, Diode and CO2. Each laser has a specific purpose — for example, hard lasers (YAG and CO2) can be applied to both hard and soft tissue.
The future of laser technology in the medical industry
From precise incisions to marking beneath the surface of a material, laser technology has evolved considerably over the last few years. With its flexibility, speed and precision, medical professionals across the globe have benefitted from it.
But the question is: "what's next?"
Over the next five years, the industrial laser market is expected to reach $14.52 billion (£10.3 billion).
This growth is underpinned by more and more laser manufacturers focusing on automation, connectivity and "personalisation". With this in mind, it's likely that the future will incorporate one or all of these features.
Here are a few things the medical industry can expect from laser technology in the future:
Many people believe that personalised medicine is the future — and the reason for this is the emergence of photonics technology. Photonics deals with the science behind the generation, detection and manipulation of light.
Using photonics in conjunction with laser technologies, doctors and surgeons can get earlier diagnoses for patients and begin to deliver personalised treatment plans for each.
Connected software and automation
The more control medical professionals have over their laser devices and apparatus, the more efficient their surgeries can be. We've already arrived at a point of incredible precision, but what if surgeries could be undertaken without the surgeon being in the room? What if simpler processes could be automated? It's likely that software holds the key.
Light is a tremendous sensor — using lasers, doctors and surgeons can get faster and earlier diagnoses based on what the light from the laser bounces back. For research, this technology helps medical professionals to understand infections and devise better ways to treat them.
What can we do for you?
At Needham Laser, we specialise in the ideation and manufacture of industrial laser systems. With decades of experience in the development and creation of laser marking solutions, our team of engineers can build innovative, best-in-class systems that are reliable, durable and affordable.

With our N-Lase solution, a robust, fully modular and easy-to-use laser marking system, hospitals and labs can benefit from the most precise, accurate and future-proof solution on the market today.
If you want to find out more about N-Lase, including how it works and the different variants we have available, fill in the form below or contact a member of our team: